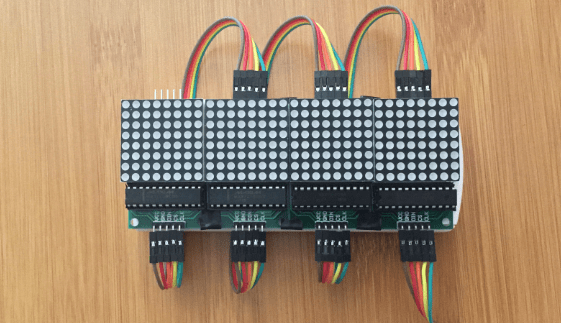 MAX7219 is a common cathode display driver with serial input and parallel output. It is used to interface microprocessors and microcontrollers with 64 individual LEDs (8 x 8 LED matrix for example has 64 LEDs), seven segment LED displays up to 8 digits or bar graph displays.
MAX7219 IC with 8X8 led matrix
The chip is used to reduce I/O pin usage of controller or processor.
The VCC and GND of the module go to the 5V and GND pins of the Arduino and the three other pins, DIN, CLK and LOAD or CS go to any digital pin of the Arduino board.
The max7219 IC is capable of driving 64 individual LEDs while using only 3 wires for communication with the Arduino, and what's more we can daisy chain multiple drivers and matrixes and still use the same 3 wires.
The MAX7219 has a four wire SPI interface – Clock, Data, Chip Select and ground – making it very simple to connect to a microcontroller.
The number of MAX 7219 ICs are equal to the no. of 8 x 8 LED matrices. In order to extend the display to multiple LED matrices, the Data OUT (DOUT) pin of the first MAX 7219 must be connected to the Data IN (DIN) pin of the second MAX 7219 IC.  Actually these pins are all the same except that the DOUT pin of the previous board goes to the DIN pin of the new board. This process must be continued for multiple LED matrices.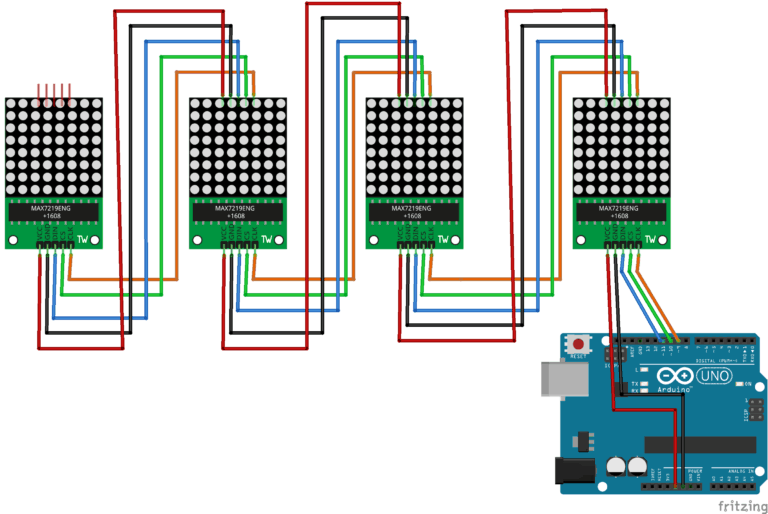 This code uses libraries previously written for this chip. Using libraries is easy because we just enter the required data to send without worrying about anything.
We are using the
MaxMatrix.h library
which supports multiple MAX7219 ICs and allows direct update of individual columns or single LED. It also supports shifting in any directions that you can easily create animation or scrolling messages.
#include <MaxMatrix.h>
#include <avr/pgmspace.h>
PROGMEM const unsigned char CH[] = {
  3, 8, B00000000, B00000000, B00000000, B00000000, B00000000, // space
  1, 8, B01011111, B00000000, B00000000, B00000000, B00000000, // !
  3, 8, B00000011, B00000000, B00000011, B00000000, B00000000, // "
  5, 8, B00010100, B00111110, B00010100, B00111110, B00010100, // #
  4, 8, B00100100, B01101010, B00101011, B00010010, B00000000, // $
  5, 8, B01100011, B00010011, B00001000, B01100100, B01100011, // %
  5, 8, B00110110, B01001001, B01010110, B00100000, B01010000, // &
  1, 8, B00000011, B00000000, B00000000, B00000000, B00000000, // '
  3, 8, B00011100, B00100010, B01000001, B00000000, B00000000, // (
  3, 8, B01000001, B00100010, B00011100, B00000000, B00000000, // )
  5, 8, B00101000, B00011000, B00001110, B00011000, B00101000, // *
  5, 8, B00001000, B00001000, B00111110, B00001000, B00001000, // +
  2, 8, B10110000, B01110000, B00000000, B00000000, B00000000, // ,
  4, 8, B00001000, B00001000, B00001000, B00001000, B00000000, // -
  2, 8, B01100000, B01100000, B00000000, B00000000, B00000000, // .
  4, 8, B01100000, B00011000, B00000110, B00000001, B00000000, // /
  4, 8, B00111110, B01000001, B01000001, B00111110, B00000000, // 0
  3, 8, B01000010, B01111111, B01000000, B00000000, B00000000, // 1
  4, 8, B01100010, B01010001, B01001001, B01000110, B00000000, // 2
  4, 8, B00100010, B01000001, B01001001, B00110110, B00000000, // 3
  4, 8, B00011000, B00010100, B00010010, B01111111, B00000000, // 4
  4, 8, B00100111, B01000101, B01000101, B00111001, B00000000, // 5
  4, 8, B00111110, B01001001, B01001001, B00110000, B00000000, // 6
  4, 8, B01100001, B00010001, B00001001, B00000111, B00000000, // 7
  4, 8, B00110110, B01001001, B01001001, B00110110, B00000000, // 8
  4, 8, B00000110, B01001001, B01001001, B00111110, B00000000, // 9
  2, 8, B01010000, B00000000, B00000000, B00000000, B00000000, // :
  2, 8, B10000000, B01010000, B00000000, B00000000, B00000000, // ;
  3, 8, B00010000, B00101000, B01000100, B00000000, B00000000, // <
  3, 8, B00010100, B00010100, B00010100, B00000000, B00000000, // =
  3, 8, B01000100, B00101000, B00010000, B00000000, B00000000, // >
  4, 8, B00000010, B01011001, B00001001, B00000110, B00000000, // ?
  5, 8, B00111110, B01001001, B01010101, B01011101, B00001110, // @
  4, 8, B01111110, B00010001, B00010001, B01111110, B00000000, // A
  4, 8, B01111111, B01001001, B01001001, B00110110, B00000000, // B
  4, 8, B00111110, B01000001, B01000001, B00100010, B00000000, // C
  4, 8, B01111111, B01000001, B01000001, B00111110, B00000000, // D
  4, 8, B01111111, B01001001, B01001001, B01000001, B00000000, // E
  4, 8, B01111111, B00001001, B00001001, B00000001, B00000000, // F
  4, 8, B00111110, B01000001, B01001001, B01111010, B00000000, // G
  4, 8, B01111111, B00001000, B00001000, B01111111, B00000000, // H
  3, 8, B01000001, B01111111, B01000001, B00000000, B00000000, // I
  4, 8, B00110000, B01000000, B01000001, B00111111, B00000000, // J
  4, 8, B01111111, B00001000, B00010100, B01100011, B00000000, // K
  4, 8, B01111111, B01000000, B01000000, B01000000, B00000000, // L
  5, 8, B01111111, B00000010, B00001100, B00000010, B01111111, // M
  5, 8, B01111111, B00000100, B00001000, B00010000, B01111111, // N
  4, 8, B00111110, B01000001, B01000001, B00111110, B00000000, // O
  4, 8, B01111111, B00001001, B00001001, B00000110, B00000000, // P
  4, 8, B00111110, B01000001, B01000001, B10111110, B00000000, // Q
  4, 8, B01111111, B00001001, B00001001, B01110110, B00000000, // R
  4, 8, B01000110, B01001001, B01001001, B00110010, B00000000, // S
  5, 8, B00000001, B00000001, B01111111, B00000001, B00000001, // T
  4, 8, B00111111, B01000000, B01000000, B00111111, B00000000, // U
  5, 8, B00001111, B00110000, B01000000, B00110000, B00001111, // V
  5, 8, B00111111, B01000000, B00111000, B01000000, B00111111, // W
  5, 8, B01100011, B00010100, B00001000, B00010100, B01100011, // X
  5, 8, B00000111, B00001000, B01110000, B00001000, B00000111, // Y
  4, 8, B01100001, B01010001, B01001001, B01000111, B00000000, // Z
  2, 8, B01111111, B01000001, B00000000, B00000000, B00000000, // [
  4, 8, B00000001, B00000110, B00011000, B01100000, B00000000, // \ backslash
  2, 8, B01000001, B01111111, B00000000, B00000000, B00000000, // ]
  3, 8, B00000010, B00000001, B00000010, B00000000, B00000000, // hat
  4, 8, B01000000, B01000000, B01000000, B01000000, B00000000, // _
  2, 8, B00000001, B00000010, B00000000, B00000000, B00000000, // `
  4, 8, B00100000, B01010100, B01010100, B01111000, B00000000, // a
  4, 8, B01111111, B01000100, B01000100, B00111000, B00000000, // b
  4, 8, B00111000, B01000100, B01000100, B00101000, B00000000, // c
  4, 8, B00111000, B01000100, B01000100, B01111111, B00000000, // d
  4, 8, B00111000, B01010100, B01010100, B00011000, B00000000, // e
  3, 8, B00000100, B01111110, B00000101, B00000000, B00000000, // f
  4, 8, B10011000, B10100100, B10100100, B01111000, B00000000, // g
  4, 8, B01111111, B00000100, B00000100, B01111000, B00000000, // h
  3, 8, B01000100, B01111101, B01000000, B00000000, B00000000, // i
  4, 8, B01000000, B10000000, B10000100, B01111101, B00000000, // j
  4, 8, B01111111, B00010000, B00101000, B01000100, B00000000, // k
  3, 8, B01000001, B01111111, B01000000, B00000000, B00000000, // l
  5, 8, B01111100, B00000100, B01111100, B00000100, B01111000, // m
  4, 8, B01111100, B00000100, B00000100, B01111000, B00000000, // n
  4, 8, B00111000, B01000100, B01000100, B00111000, B00000000, // o
  4, 8, B11111100, B00100100, B00100100, B00011000, B00000000, // p
  4, 8, B00011000, B00100100, B00100100, B11111100, B00000000, // q
  4, 8, B01111100, B00001000, B00000100, B00000100, B00000000, // r
  4, 8, B01001000, B01010100, B01010100, B00100100, B00000000, // s
  3, 8, B00000100, B00111111, B01000100, B00000000, B00000000, // t
  4, 8, B00111100, B01000000, B01000000, B01111100, B00000000, // u
  5, 8, B00011100, B00100000, B01000000, B00100000, B00011100, // v
  5, 8, B00111100, B01000000, B00111100, B01000000, B00111100, // w
  5, 8, B01000100, B00101000, B00010000, B00101000, B01000100, // x
  4, 8, B10011100, B10100000, B10100000, B01111100, B00000000, // y
  3, 8, B01100100, B01010100, B01001100, B00000000, B00000000, // z
  3, 8, B00001000, B00110110, B01000001, B00000000, B00000000, // {
  1, 8, B01111111, B00000000, B00000000, B00000000, B00000000, // |
  3, 8, B01000001, B00110110, B00001000, B00000000, B00000000, // }
  4, 8, B00001000, B00000100, B00001000, B00000100, B00000000, // ~
};
int DIN = 11;   // DIN pin of MAX7219 module
int CLK = 13;   // CLK pin of MAX7219 module
int CS = 10;    // CS pin of MAX7219 module
int maxInUse = 4;
MaxMatrix m(DIN, CS, CLK, maxInUse);
byte buffer[10];
char text[]= "WELCOME...  "; // Scrolling text
void setup() {
  m.init(); // module initialize
  m.setIntensity(15); // dot matix intensity 0-15
}
void loop() {
  printStringWithShift(text, 100); // (text, scrolling speed)
}
// Display=the extracted characters with scrolling
void printCharWithShift(char c, int shift_speed) {
  if (c < 32) return;
  c -= 32;
  memcpy_P(buffer, CH + 7 * c, 7);
  m.writeSprite(32, 0, buffer);
  m.setColumn(32 + buffer[0], 0);
  for (int i = 0; i < buffer[0] + 1; i++)
  {
    delay(shift_speed);
    m.shiftLeft(false, false);
  }
}
// Extract the characters from the text string
void printStringWithShift(char* s, int shift_speed) {
  while (*s != 0) {
    printCharWithShift(*s, shift_speed);
    s++;
  }
}